January 31st ~ We've been spoiled by travelling in "Gone" our little motorhome. All you add is food, water and a ditty bag and you're ready to go. Not wanting tempt the Fates, we decide against it since there's always a chance of snow this time of year. A motorhome is a flying brick to begin with and they don't wear chains. We haven't packed a car for a road trip in six years so we found ourselves rather amused by the amount of stuff we're bringing along: cowboy clothes, hats, foul weather gear, boots and shoes, camera, binoculars, walking sticks, cooler, emergency pack, rolling backpacks, books on tape, etc. How did we ever find room for our two big dogs before? The entire back end of the Jeep is full to seat back level, neatly buried under the waves of a colorful Pendleton blanket.
We finished packing the car about 9:30, did a last check of the house and I started, no let me rephrase that, tried to start the Jeep: a slow groan and then clickita, clickita, clickita. I call Jeff, my mechanic, who said it sounded like the starter. He advises banging on it a few times with hammer and try it again. Nada, so he orders a starter and waits for us to get towed.
Called CSAA and Sebastopol Tow shows up in about 15 minutes. Brian, the owner, asks us what's up, then says "let me try something". He brings out his portable jump starter and badabing, she turns right over. Hero #1 of the day. We
call Jeff back and tell him we'll get there under our own power. All systems check out. Have we stumped the mechanic? Not likely, but he's at a momentary loss. I ask him if it's possible to check the electrical system (I've got a few motorhead genes thanks to my dad).
He chased down and tested every fuse, connection and wiring harness. It took 2 hours but he finally found frayed wire in the harness under the dash. It was shorting the system and drained the battery. He fixed in a few minutes. We asked what we owed him for his time and he says "Just get your asses on the road and have a good time". Hero #2 of the day.
Jeff's been working on our cars for years and you can understand why!
All things happen for a reason, though we haven't quite figured this one out yet our thought is that it's better to have it happen in the driveway than somewhere in the middle of Nevada. We finally leave Sonoma County around noon, arrive in Reno about 4:30 and check into the Silver Legacy.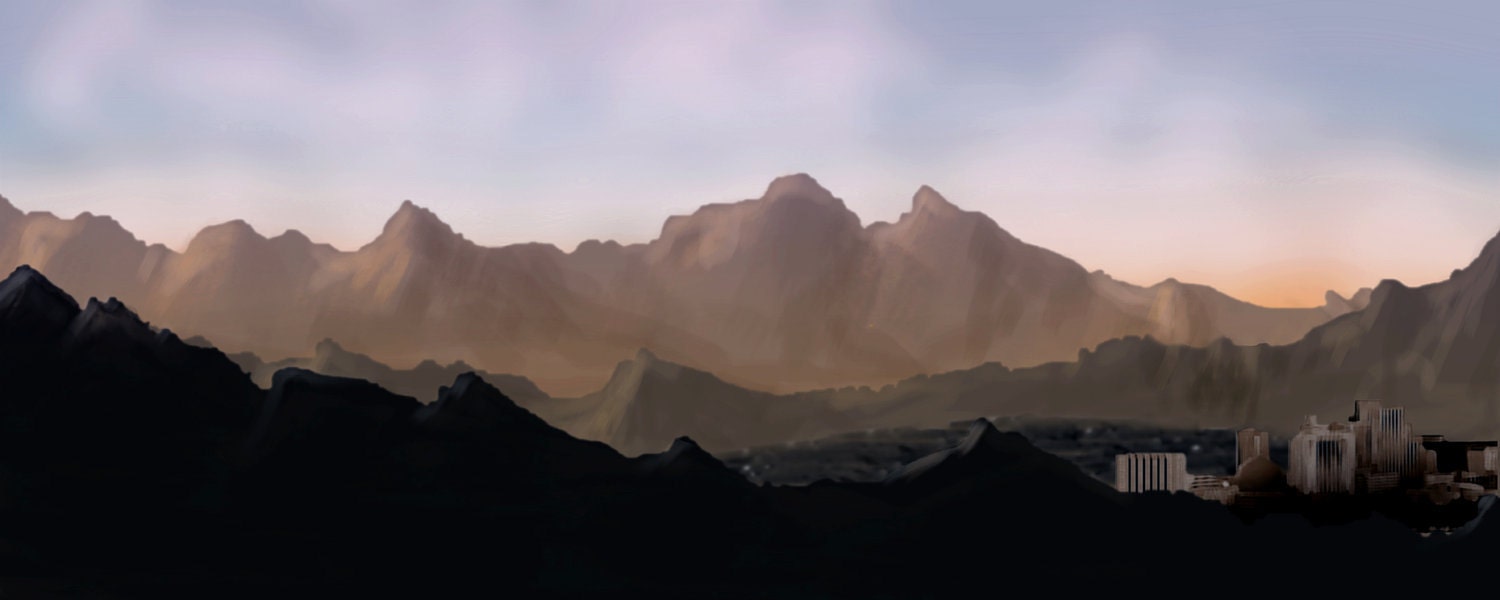 Digital Painting, Reno, NV
Perfect ending to the day is a fabulous dinner, visit and lots of laughter with our friends Steve and Barb.
The road to Elko lays ahead. Weather is clear and cold ~ a good sign.