I wish I could record my dreams as they are unfolding. Sometimes I remember the essence of having had a dream, and other times I remember vivid details for little awhile. I jumped out of bed this morning and bounded into the living room where Rod was trying to read the paper. I forced my way into his consciousness with a sort of verbal speed read of the dream to help me remember details. He looked up from the paper and just smiled.
It never ceases to amaze me how our brains put seemingly unconnected experiences together in the world of dreams. We watched Rango Friday night, a delightful animated story with Johnny Depp as the lead character, out to find the "Spirit of the West" and save the town of Dirt.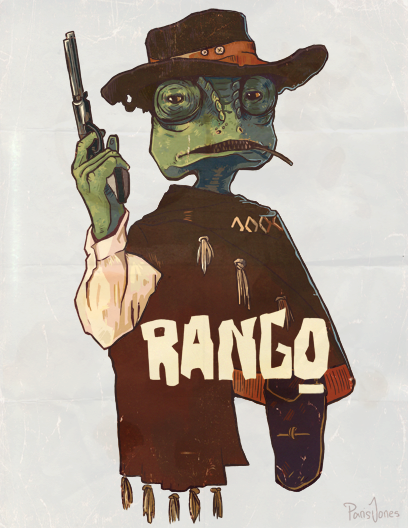 Yesterday we participated in a fully costumed, mini version of the Much Ado About Sebastopol Renaissance Faire at La Bodega to help raise awareness of the upcoming Faire in September at Ives Park.
I'm walking down the dusty main street of an old frontier town. Two other travellers join me along the way and we move from the prairie to high desert, to forests dense with foliage and streams. We start to climb and move into a steep canyon. We hear a soft noise and look up to a shelf on a canyon wall and see a small cabin with no front (like a shadow box). Watching us from the perch are an owl, a griffin and a cat who are no doubt guardians of the realm. Though no words are spoken we seem to have permission to proceed.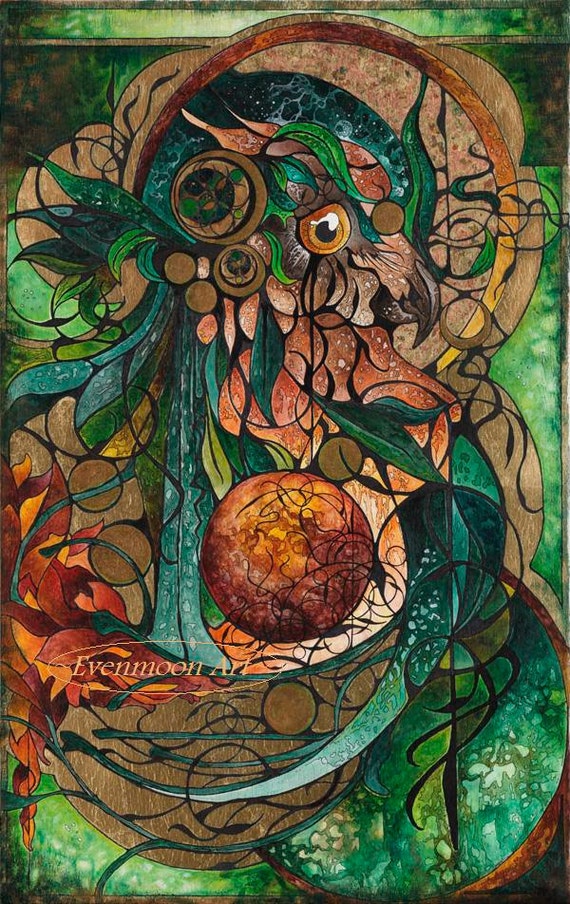 Verdantis, Keeper of the Earth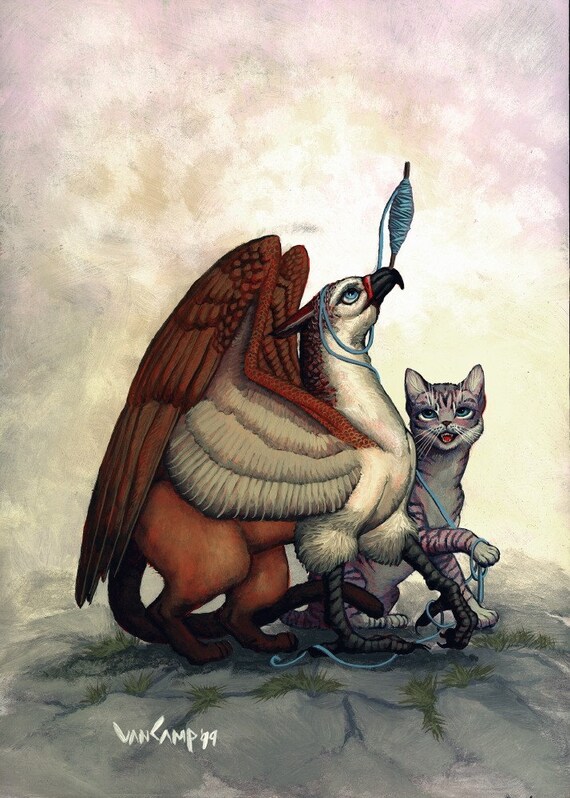 http://www.etsy.com/shop/SusanVanCamp
Further into the forest we come upon a large manor house. The front door is open and we step into the doorway to see if anyone is home. A man and woman in Elizabethan costumes are laughing and chasing each other around the great room with goblets in hand. They see us and invite us in to join the revelry. Once we are inside, the house appears to be high in a tree. It slowly rotates on a geared apparatus and stops at seven different points.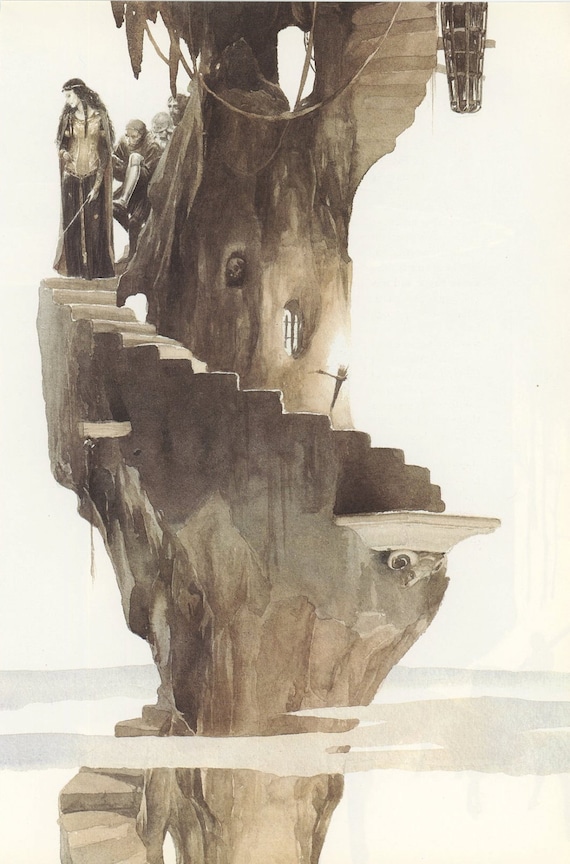 Looking over what could be described as a porch railing there are herds and flocks of grazing, flying and swimming beasts, the likes of which we've never seen. Each stop on the rotation reveals a different world, all of which seem to be quite peaceful.
The lord of the manor offers us a libation and slices a small piece from a very strange looking fruit or mushroom to brew some tea. The remaining portion starts to grow and change into weird shapes as we watch. At that point we decide it's time to move on, so we thank our hosts and continue the journey.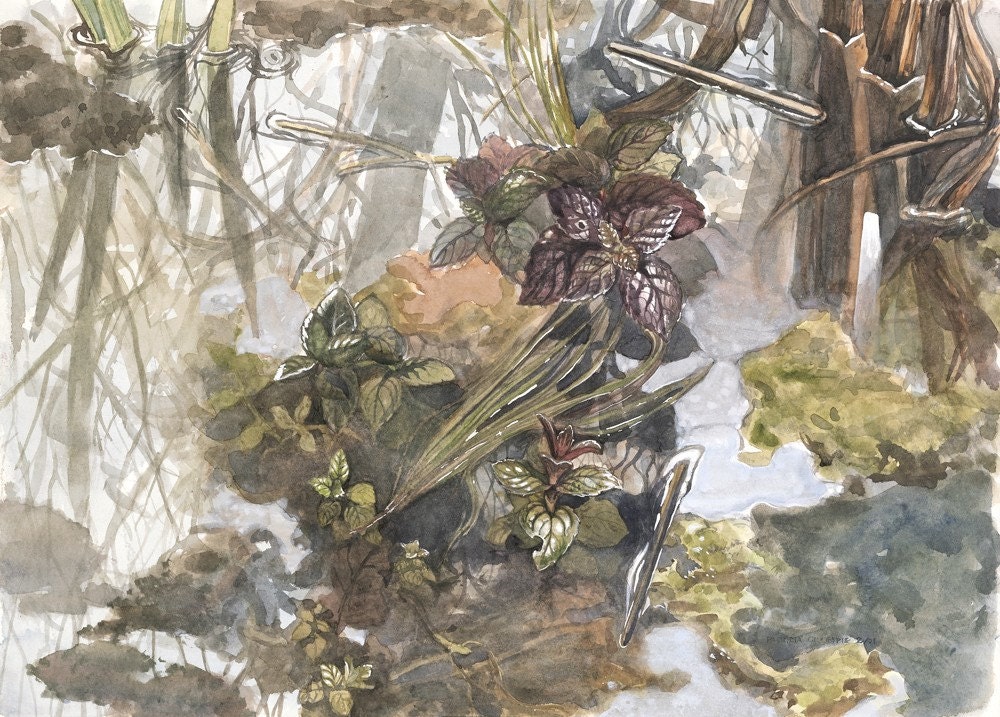 Though I still don't know who my fellow travellers are, the surroundings are looking more familiar. We come upon a spring that seems to flow from a large water pipe in the middle of nowhere. As we follow the creek I realize I'm close to home. It flows through our neighbor Susi's yard, then moves underground down the slope of our land to the neighbor's below. Aha, now I know why the ground is always wet at the bottom of the property.
We are all travellers on these hidden highways. My dreamscapes are often unexplainable but I always enjoy the ride. Many thanks to Etsy artisans who always seem to be able to help me illustrate my journeys.