"As gold more brilliant from the fire appears,
Thus friendship brightens by the length of years."
Adelaide Breen
San Juan, CA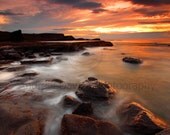 This short poem written in Great Grandmother Flora's album is attributed to Thomas Carlyle (1795-1881). He was a Scottish philosopher, satirist, historian, teacher and controversial social commentator.
He had a lifelong friendship with Ralph Waldo Emerson.
His first major work, written in 1831, was Sartor Resartus. It was intended to be both fact and fiction, serious and satirical, speculative and historical. Ironically it forced the reader to confront the problem of where the truth was to be found. Sounds a bit like today's media machine.
His most well known work was Frederick the Great. Emerson considered it the wittiest book that was ever written. James Russell Lowell wrote "The figures of most historians seem like dolls stuffed with bran, whose substance runs out through any hole that criticism may tear in them; but Carlyle's are so real in comparison, that, if you prick them, they bleed." Might be time to revisit history with a more experienced perspective.
This portrait of Thomas Carlyle was done by James McNeill Whistler in 1872-73. I'm also doing research on Adelaide Breen and may have found a connection to her family tree, the quest continues.