I'm not a political person. My idea of the news is the Daily Show. Newspapers are for the funnies and the crossword puzzle. Now we seem to be on the 24/7 political channel: Most of our mail is recyclable, the phone is on permanent screen, and the TV is overrun by talking heads, mudslingers, analysts, and wannabes. I cannot wait until November 7th when things get back to semi-normal.
Anyway, t
here's a new radio station in Sonoma County called Funny 95.5 and its 24/7 comedy. A great co-pilot when you're in the car dodging idiots and trying to maintain your cool. This quote from the irrespressable Will Rogers got me to thinking about the art (and I use that term loosely) of politics.
People are taking their comedians seriously
and the politicians as a joke.
I started researching political humor and found some priceless thoughts and observations that might lighten your day and get you to thinking.
Will Rogers ~ The trouble with practical jokes is that very often they get elected.
Harry S. Truman ~ My choice early in life was either to be a piano-player in a whorehouse or a politician. And to tell the truth, there's hardly any difference.
E. E. Cummings ~ A politician is an arse upon which everyone has sat except a man.
Alfred E. Newman ~ Crime does not pay as well as politics.
Charlie Chaplin ~ I remain just one thing, and one thing only, and that is a clown. It places me on a far higher plane than any politician.
Ronald Reagan ~ Politics is supposed to be the second oldest profession. I have come to realize that it bears a very close resemblance to the first.
Ernest Benn ~ Politics is the art of looking for trouble, finding it whether it exists or not, diagnosing it incorrectly, and applying the wrong remedy.
Adlai Stevenson ~ I have been thinking that I would make a proposition to my Republican friends... that if they will stop telling lies about the Democrats, we will stop telling the truth about them.
Unknown ~ Politicians and diapers have one thing in common. They should both be changed regularly and for the same reason."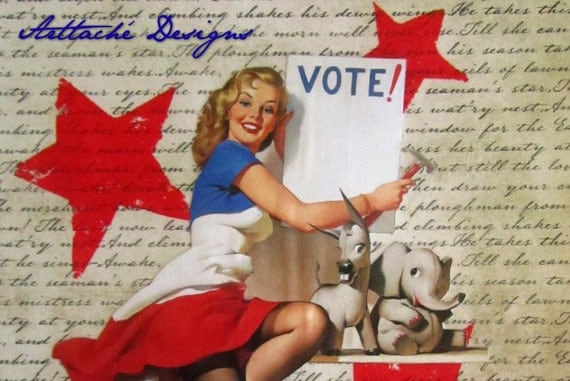 So step up to the bar, cowboy up, and face the task at hand: attempt to make sense of the voter pamphlet, inform yourself as best you can and vote. There's a $5 fine for whining and you can't complain if you didn't show up ~ I said that.